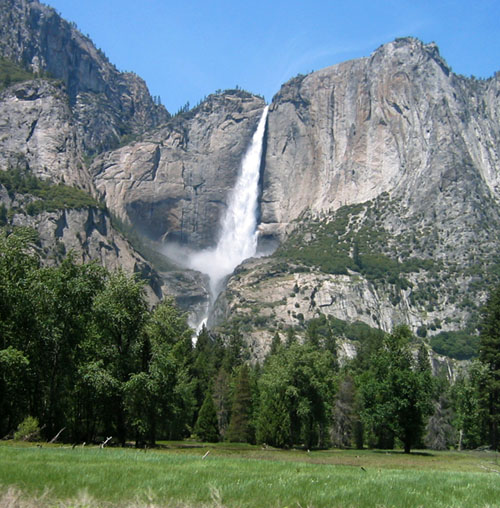 Yosemite is one of the most visited national parks in the United States. It is located in central California and takes up an area of over 1000 sq. miles. The most visited part is the seven sq. miles of Yosemite Valley. This is the most photographed part of the park, but there is much more to be explored than just that spot.
The park is known for its granite cliffs, water falls, clear streams, and the biological diversity. Yosemite was actually one of the main focal points when the government decided to protect and preserve national parks and wilderness areas. It is said that the park was made from the shifting of techtonic plates as well as the movement and formation of glaciers.
Yosemite Valley (roughly 1% of the park) has a couple of the most spectacular features. First, El Capitan is a gigantic granite cliff that is perfect for rock climbing. There are tons of different routes waiting to be persued. There are also a couple of half domes in this region just soaring a few thousand feet about the surrounding area.
Some of the other more popular places to visit are in the highlands. There are mountain ranges, extensive meadows, and hundreds of miles of trails to follow. This is a great place to go backpacking and offers the hiker everything needed. This area is full of clear streams for water and washing as well as a great view for constant entertainment.
These views and environment aren't just perfect for people, but also for plants and animals. Black bears are all over the place in this park. If you go hiking here, it is actually required to have
bear-safe food containers
. Besides bears, one can also see marmots, foxes, deer, and owls, among many others. The park also has some Giant Seguoia to gawk over. These trees are actually the largest in the world in area (not height).
Yosemite is the jackpot of places to go backpacking. You will not be disappointed if you ever make the trek out there. Between the views, the animals, and the gigantic trees, one can never go away without satisfaction.